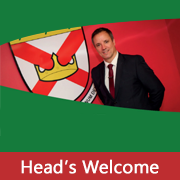 On behalf of the Nicholas Postgate Catholic Academy Trust, Governors and staff, I would like to welcome you. It is a huge privilege to be the Executive Headteacher of St Patrick's Catholic College as a former pupil myself and to serve a community in the heart of my home town.
Choosing a secondary school is an important decision for all families and is a decision not to be taken lightly. As a parent, I understand that the decision to send your child to the right school must be made with due care and attention in order to make an informed choice.  I have such faith in the quality of education provided at NPCAT that my own children attend schools within this trust.
As an experienced headteacher, I am committed to school improvement and improving the life chances of all young people and have experience in a range of different schools across the North East. In each school, I have made rapid improvements to achievement, progress, behaviour and attendance with these improvements receiving recognition from Ofsted and the local authority. I have improved schools and transformed them from underperforming inadequate schools to good schools in short periods of time. 
As the Executive Headteacher at St Patrick's Catholic College, I lead the school by:
Ensuring everything we do is centred around the life and teachings of Jesus Christ.
Improving the quality of education.
Setting the highest expectations of pupils and their outcomes.
Improving the life chances of all our young people by nurturing their unique gifts and talents.
Despite the pandemic, we have managed to rapidly progress as a school and our recent Ofsted monitoring Section 8 inspections are testament to this (these can be found on our website). The reports illustrate a clear improvement trajectory that continues to have a daily impact on the children and wider community of St. Patrick's.
Our mission of FAITH, FAMILY & FUTURE does not only include achieving the highest standards of behaviour and academic achievement but providing our pupils with the best possible holistic education. As a Catholic school, nurturing children's spiritual development is central to everything we do. As part of the Middlesbrough Diocese, we belong to a family of Catholic primary and secondary schools with whom we share the same distinct Catholic ethos.
At St Patrick's Catholic College, we will continue to build strong relationships and support parental engagement, to ensure that as a community, we place family at the centre and together, we will support your child to fulfil their potential. We will ensure that pupils are nurtured, respected, safeguarded, loved, supported and have the guidance and opportunities that I had myself to be successful during their time at our school and beyond.
Yours sincerely,
Mr M Burns
Executive Headteacher